TRUE NORTH
The Adventure Cruise starts here

ON THE WAY TO DISCOVERY . AUSTRALIA
Not just another expedition cruise
An adventure with the multi-awarded True North Adventure Cruises is not just another expedition-cruise! Life on-board is certainly comfortable and stylish. The high crew to guest ratio (22:36) enables True North to provide personal service and attention to detail. The ship offers 3 levels of spacious cabin and enjoys a revered reputation for dining.
True North curates activity-based itineraries that are designed to satisfy the world's most discerning travellers. True North features unparalleled access to stunning coastal environments and, unequalled opportunity to truly experience the destination.
True North itineraries are intended to be life changing and it is little wonder that the guests often remark "that is the best holiday that I have ever had!"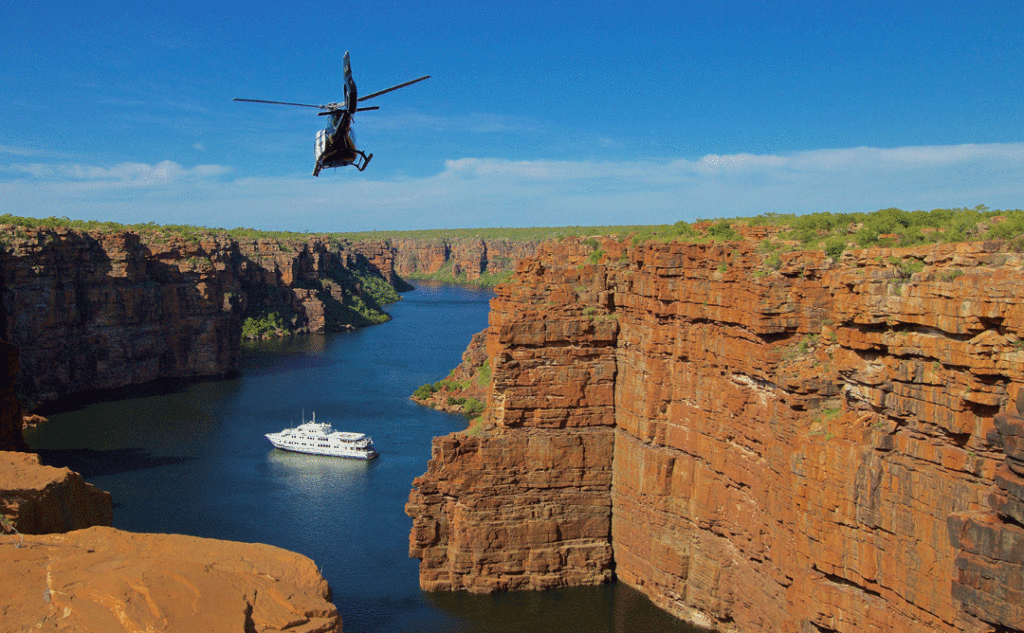 WHAT YOU CAN EXPECT
while exploring Kimberley, North Western Australia
The Kimberley region in North Western Australia is a panorama of rugged mountains, spectacular gorges and majestic waterfalls.
The region attracts visitors from all over the world – but not everybody is fortunate enough to truly experience this ancient land.
Purpose built to go where other ships cannot, the stylish adventure-cruise ship TRUE NORTH provides a level of access that is the envy of others!
Whilst others sail past – we can safely navigate the region's many shallow river systems and provide our guests with intimate access to the region's iconic nature features.
And, our activity-based itineraries include tactile experiences such as hiking, fishing, mud crabbing, picnics, natural history interpretation, seeing the ancient rock art of the Australian Aborigines and exhilarating helicopter rides. KEY TO THE WORLD
passport to happiness

Twelve years ago, Atelier Voyage has set sail on a most exciting worldly adventure. Since then, our goal has always been to create inspiring moments for your perfect journey, anywhere your heart may lead you.

Our deep love & knowledge of world destinations are reaffirmed with the recognition of Preferred Partners & unique individuals across the globe.

Along with a dedicated team, we expand & continue to express our passion for the Essence of Travel. We convey this passion via our tailor-made itineraries designed for your eyes only… Experience Atelier Voyage – your passport to happiness.

Gabriel & Gerhard

Atelier Voyage Founders