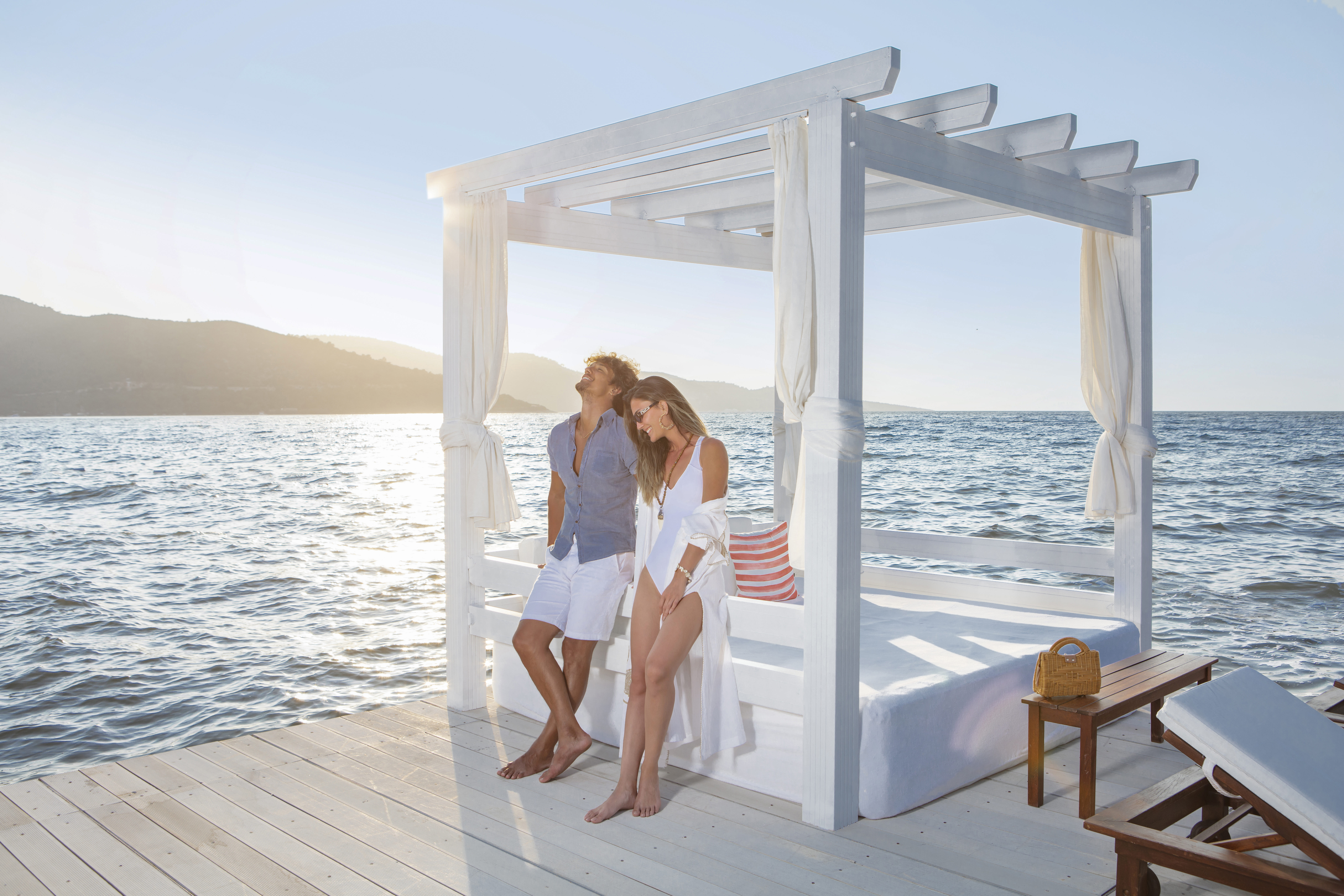 Susona Bodrum, LXR Hotels & Resorts
Dance with the waves

Susona Bodrum, LXR Hotels & Resorts is a unique luxury sea-front destination hotel located near Torba, Bodrum area on the south-western coast of Turkey.
Among the hotel's remarkable offerings, guests can enjoy jetties built into the sea, a rooftop relaxing pool area, the-state-of-the-art spa operated by Spa Soul, 24/7 fitness centre, as well as dining and cocktail options including Frankie Beach Club & Restaurant, Malva Restaurant & Cocktail Bar, and EZİ Restaurant offering rich menu contents prepared with fresh & locally sourced products from the Aegean region.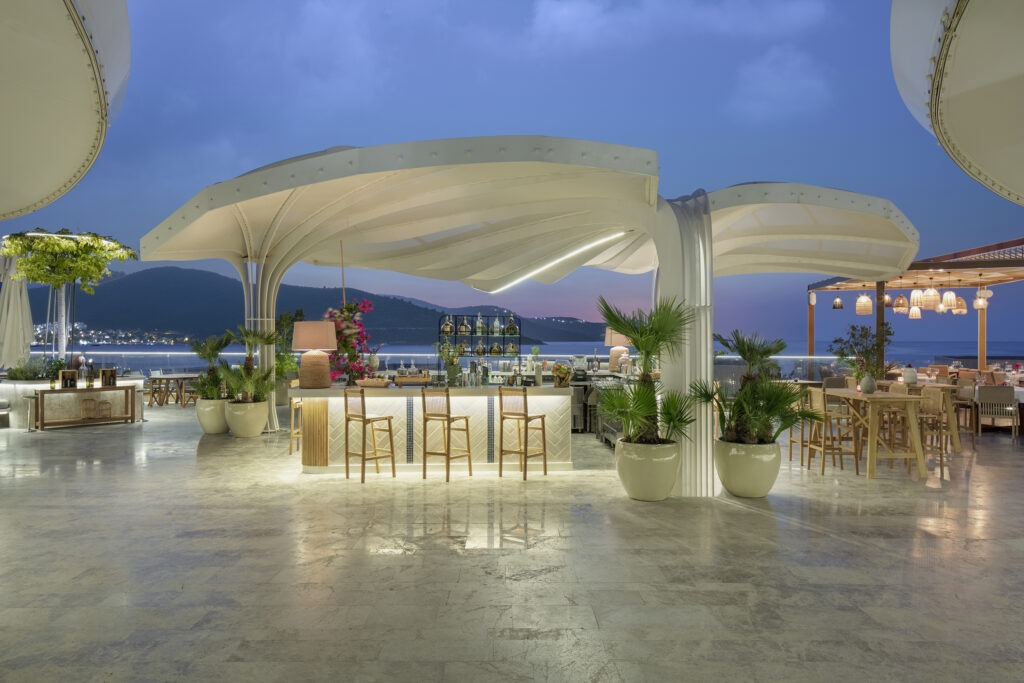 CULINARY DELIGHTS
Frankie Beach Club | Enjoy sun, sea and music along with world- class cocktails. Discover the specially designed menu featuring a diverse range of dishes prepared with fresh & local products; accompanied by our resident DJ and high-end live music entertainment during the day. Daily: 11:00– 20:00
Malva Cocktail Bar | From a magical sunset to candlelight, enjoy sophisticated artisanal cocktails and the unique selection of local & international wines. The boho-chic style atmosphere offers the perfect backdrop with a stunning sunset view. Daily: 19:00– 00:00
Malva Restaurant | Life is a little more leisurely at Malva Restaurant. The menu features a diverse range of dishes prepared in line with Slow Food cooking, includes fresh & locally-sourced products inspired by the Aegean region. Malva will delight guests for a unique journey in the world of gastronomy. Later in the evening, diners can enjoy live performances of jazz, soft funk and blues, featuring Turkish and international favorites. Daily: 19:00–00:00
Ezi Restaurant | Offering tranquility in a comfortable setting will kick start the day with our special Turkish breakfast from our garden to your table with enriched homemade bakeries, variety of juices, smoothies and coffee selections. Experience the comfort food offerings throughout the day overlooking the Turquoise coast. Featuring an infinity pool, Ezi is the place where you can chill all day. Daily: 7:00–23:00

DREAM-LIKE ACCOMMODATIONS
The hotel features 76 rooms, suites and villas with stunning panoramic sea views, in-room media hubs with various entertainment options, heated private pools, patios, and sun decks.

WELLBEING ACTIVITIES
• Spa Soul | The Spa at the hotel is being operated by. Spa Soul, always aiming to provide guests with the definitive sensorial experience. While guests enjoy the facilities of the spa, they undergo a systematic analysis of needs and experience personalized treatments that focus on delivering targeted results

• 24 / 7 Fitness Center | Stay on top of your fitness schedule at our 24- hour state-of-the-art gym. Features include an outdoor CrossFit area. Please contact Spa Soul Reception for more information.
• Tennis Court | Practice your serve at the on-site clay tennis court.
• Two Outdoor Heated Swimming Pools
• Jetties
• Private Family Beach | Unwind by the beach with fresh & healthy drinks and delicious snack selections.
• Water Sports Activities

POINTS OF INTEREST NEARBY
• Vineyard Visit & Wine Tasting
• Local Experience at Etrim Village
• Local Bodrum Sandals Experience
• Half Day City Tour
Bodrum Castle & Marina: 9 km
Bodrum Amphitheatre: 9 km
Bodrum Museum of Underwater Archaeology: 9 km
Mausoleum of Halicarnassus: 11 km
Windmills in Bodrum: 12 km
Kargi Island: 22 km

HIGHLIGHTS ON PROPERTY
Private boat transfer
The first LXR property in Turkey and the 4th LXR hotel in the world.
22 Suites with Private Pool, Spacious Garden or Terrace
Rooms with high ceilings and floor to ceiling windows
Private Beach with jetties for sunbathing
Located in a private peninsula, the resort offers an open-air access to guest rooms and other hotel facilities
Strong F&B outlets, with culinary and entertainment character and reputation.
Infinity Pool
The state-of-the-art Spa facilities

EXTRA NOTE FOR DOG LOVERS
Regardless of the weight, your pet is allowed during your stay. A one-time fee of 100 € per pet, including VAT, is applied during the stay.
CONTACT ATELIER VOYAGE AND DISCOVER YOUR UNIQUE PRIVILEGES WHEN TRAVELING TO A LXR HOTELS & RESORTS
AND LET US PREPARE YOUR TAILOR-MADE EXPERIENCE AT
SUSONA BODRUM, LXR HOTELS & RESORTS HAPPY KEY TO THE WORLD
passport to happiness

Since 2007, we have set sail for one of the most exciting social adventure: Atelier Voyage. Our goal has always been to create inspiring moments for your perfect journey, encompassing the best accommodations but also all your gastronomic and cultural needs, wherever your heart may take you.

Indeed, our deep love & knowledge of the world's destinations can direct you to the right destinations while meeting your most demanding expectations. This is reaffirmed with the recognition of Preferred Partners
& unique travel professionals around the globe.

With a dedicated team, we expand and continue to express our passion for the essence of travel, for Art History & Humanity as a whole.

We hope to pass this passion on to you through our tailor-made itineraries designed for your eyes only… We invite you to experience Atelier Voyage, your passport to happiness.

Gabriel & Gerhard

Atelier Voyage Founders