VOCABOLO MOSCATELLI
Umbrian Dream Estate meets Creative Energy
UMBRIAN DREAM ESTATE MEETS CREATIVE ENERGY

Housed in a 12th century listed monastery – the twelve (12) rooms and suites come with their own color concept in an elegant mid-century style, blending rich Italian history & creative energy. Amongst your range of accommodation, there is a Spa Garden Room with indoor sauna and outdoor Jacuzzi.
Wellness treatments upon requests and an adjacent pool for your delight.and so many other niches of pleasure where to relax and/or enjoy the company of loved ones.
WHAT ARE YOU DREAMING OF..?
⋄ A long "tavolata" under a pergola entwined with white wisteria
⋄ A lazy Sunday brunch with fancy cocktails
⋄ Sauna and massage treatments upon request
⋄ An unforgettable pool party
⋄ A picnic in our fairytale garden
⋄ Barbecue & Marshmallows around the fire pit
⋄ A romantic dinner in our private chapel
⋄ Private pottery class in the chapel
⋄ A glamorous alfresco wedding reception
⋄ Civil Ceremonies & Symbolic Ceremonies
VOCABOLO MOSCATELLI X ATELIER VOYAGE
CAN ARRANGE YOUR PERFECT & EXCLUSIVE PRIVATE EVENT
___________
Find your particular blend of privacy on your private room outdoor spaec or anywhere on the estate… while gathering with your favorite read, or join the others by the fireplace in the evening, after a succulent dinner to enjoy the lively conversations and laughter of close or newly made friends.
____________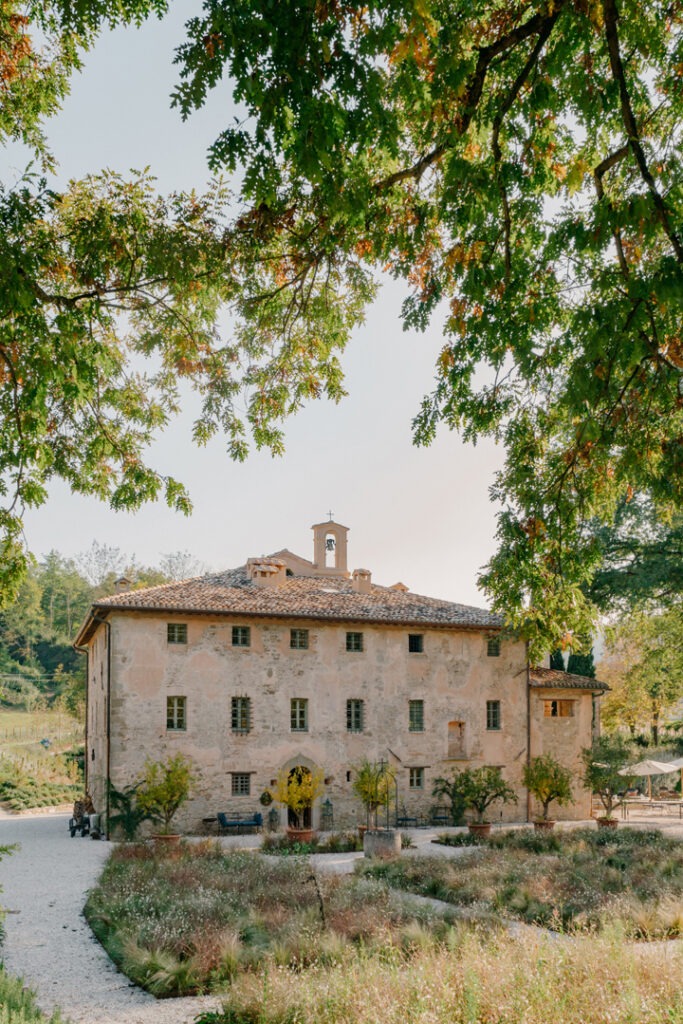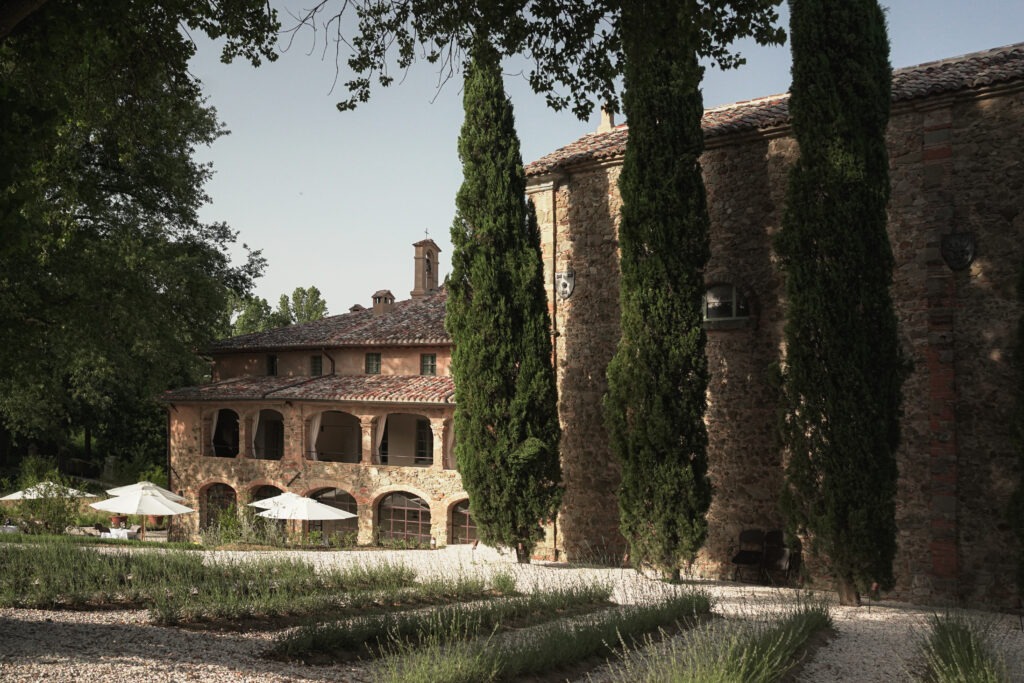 ____________
ACCOMMODATIONS
BEST OF ITALIAN DESIGN

The twelve (12) Rooms and Suites highlight the best of Italian design. An interplay of local craftsmanship and native materials gives the rooms their distinctive character. Every room is equipped with a king-size bed, a spacious wardrobe, and a small seating area. Details, such as the hemp linens or the handmade colourful tiles by Italian artist Cotto Etrusco in the elegant bathrooms make for unique vibrant interiors… All is there at your fingertips, you now just need to enjoy what Vocabolo Moscatelli can bring you!
____________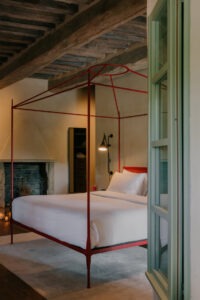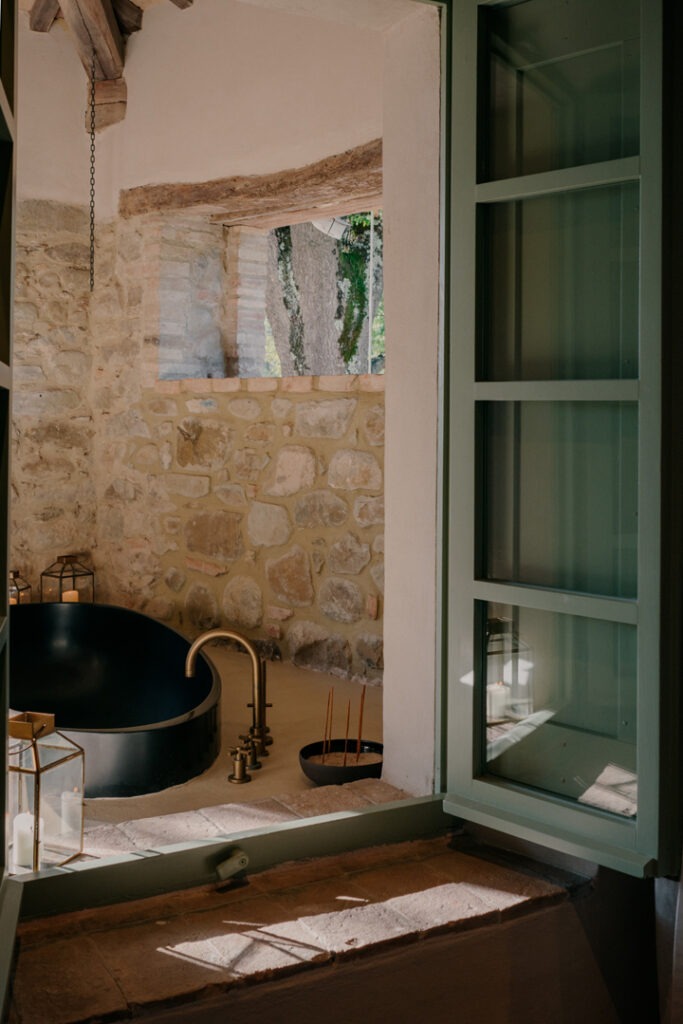 ____________
RELAXATION AREAS & OUTDOOR ACTIVITIES

Become the author of your own story… find yourself and niche in the vast gardens, or simply lay by the pool, while reading an exciting novel. Sauna and massage treatments also available upon request.

There are endless of activities, from truffle hunting with the very best trainers, hiking in Umbria´s unique Natural setting, dining with the local Chefs in their own homes, to discovering the nearby towns or historical renown, such as Assisi and many in between.

____________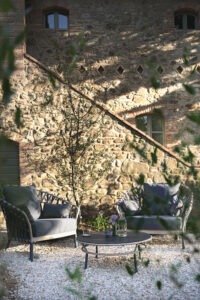 ____________
THE RESTAURANT & MATITE BAR
Wine is better, shared with the right people.
The ground floor of the main villa includes a restaurant whose curated menu is a gastronomic experience inspired by the rich flavors of the Umbrian land, the result of careful research by independent and passionate producers of the area. The restaurant's Chef de cuisine, Luca, is committed to sourcing local and sustainable ingredients and vegetables will be the main protagonists of his creative dishes, with meat and fish as supporting roles. The property's restaurant and bar offer indoor and outdoor seating, along with a cozy conservatory.
____________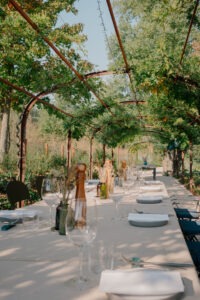 ____________
Take time off by immersing yourself
in Umbria´s charm…
or privatize the property for your special exclusive event…!
CONTACT ATELIER VOYAGE
FOR YOUR TRAVELS TO VOCABOLO MOSCATELLI IN UMBRIA HAPPY KEY TO THE WORLD
passport to happiness

Since 2007, we have set sail for one of the most exciting social adventure: Atelier Voyage. Our goal has always been to create inspiring moments for your perfect journey, encompassing the best accommodations but also all your gastronomic and cultural needs, wherever your heart may take you.

Indeed, our deep love & knowledge of the world's destinations can direct you to the right destinations while meeting your most demanding expectations. This is reaffirmed with the recognition of Preferred Partners
& unique travel professionals around the globe.

With a dedicated team, we expand and continue to express our passion for the essence of travel, for Art History & Humanity as a whole.

We hope to pass this passion on to you through our tailor-made itineraries designed for your eyes only… We invite you to experience Atelier Voyage, your passport to happiness.

Gabriel & Gerhard

Atelier Voyage Founders