Bulgari Resort Dubai
A jewel in the sun

ON THE EXCLUSIVE MANDMADE JUMEIRA BAY
An island carved into the shape of a seahorse and adjoined by a 300m bridge to central Dubai coastline, the sunny property is a true 'urban oasis,' for visitors and residents alike.
Designed entirely by Antonio Citterio Patricia Viel, the renowned Italian architectural firm that has created all Bvlgari Hotels & Resorts, the 158,000 square-metre property is a first-of-its-kind development for Bvlgari, both in scale and magnitude. Charming with a Mediterranean village feel, the complex features the Resort, six residential buildings with 173 sea facing apartments, 15 private mansions, and Bvlgari's first-ever Marina and Yacht Club.
ROOMS, SUITES, VILLAS & MORE

Comprised of 101 rooms and suites, as well as 20 Bvlgari villas with pool, garden and sea-view, Bvlgari Resort Dubai offers a full range of amenities, such as the gourmet Il Ristorante – Niko Romito, the Il Café open all day, Il Bar with its iconic oval-shaped Bvlgari bar and La Spiaggia the most exclusive beach Club with private beach and a unique mosaic-design outdoor swimming pool.
BVLGARI MARINA
Located in one of the Dubai's most prestigious landmark, the Marina combines an exclusive world-class destination with personalized and unique services.
Recalling a Mediterranean village in its design, the Marina flanks the 46-boat harbour whose travertine promenade is illuminated by street lamps at dusk.
The Marina is the ultimate yachting experience…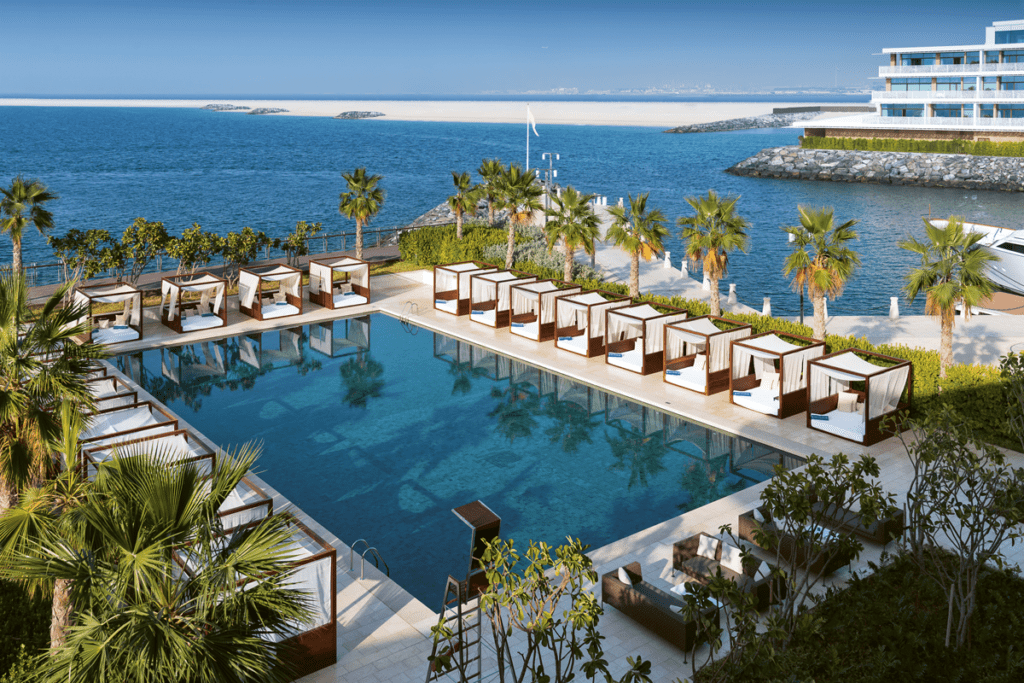 SPA & FITNESS
Guests can also enjoy the 1,700 square-metre Spa with hammam, indoor pool, fitness centre, beauty salon with a traditional barbershop and hairdresser. 
Always something to do at Bvlgari Resort Dubai.
Come and experience this resplendent jewel. HAPPY KEY TO THE WORLD
passport to happiness

Since 2007, we have set sail for one of the most exciting social adventure: Atelier Voyage. Our goal has always been to create inspiring moments for your perfect journey, encompassing the best accommodations but also all your gastronomic and cultural needs, wherever your heart may take you.

Indeed, our deep love & knowledge of the world's destinations can direct you to the right destinations while meeting your most demanding expectations. This is reaffirmed with the recognition of Preferred Partners
& unique travel professionals around the globe.

With a dedicated team, we expand and continue to express our passion for the essence of travel, for Art History & Humanity as a whole.

We hope to pass this passion on to you through our tailor-made itineraries designed for your eyes only… We invite you to experience Atelier Voyage, your passport to happiness.

Gabriel & Gerhard

Atelier Voyage Founders