LA ROUTE DU SUD
Morocco's southern extremes in all elegance

'From here to Timbuktu.' Well, almost.
Our serendipitous discovery of Morocco's southern extremes sparked this exhilarating five-stage expedition along vast, remote stretches known only to a very few. Valleys lush with argan bushes, ochre Atlantic coast cliffs, sculptural outcroppings of the Anti-Atlas Mountains and sun scorched flatlands dappled with palm oases lead to our encampment among the vast dunes of the Sahara, and finally home to Dar Ahlam.
Only one booking at a time, of up to six guests, traverses this evocative, constantly shifting North African landscape. Each custom-equipped 4×4 vehicle carries two passengers and the driver. Your family or group of friends is attended to by one of our highly trained butlers throughout the journey.
You will also travel with French chef Thierry Alix's recipes that reflect the rich culinary heritage along the route, as do pastries and desserts by unrivaled patissier Pierre Hermé. Meals are served with distinguished regional wines, and each evening we open the bar for you, to accompany Morocco's ravishing sunsets.
Artisans from around the region constructed these three bedroom maisons des rêves solely for guests of the Route du Sud. Each gracefully reflects its timeless setting yet makes present-day adventurers feel utterly comfortable among these distant yet beguiling lands.
Maison des Arganiers
In the hillside village of Azrarag, our whitewashed stone house extends to terraces poised over the argan valley extending for miles below. Until recently a douar to house goats, the living room now claims a stone fireplace, Argentine rugs and custom seating from Paris. Under woven timber ceilings, all three en-suite bedrooms welcome with hand-embroidered bed linens and conveniences like heating and air-conditioning.
Herders call out "Salam" as they head home for evening's call to prayer. At this tiny hamlet in the middle of nowhere, surrounded by authentic Berber village life, we have been made to feel truly at home.
Maison de l´Oasis
At the edge of the Sahara, near an old caravan town on the Timbuktu route, you will spend our southernmost halt within the largest inhabited oasis in Morocco.
These explorer's style, rammed earth houses take design cues from neighboring Mauritania yet incorporate every necessary luxury, from air-conditioning to the rain shower and clawed bathtub.
Lounge on cushioned daybeds shaded by dromedary-hair tent covers handmade for us by a local women's cooperative. You greet the dusk with the scent of Moroccan bread baking in the traditional clay oven and serve dinner by crackling campfire.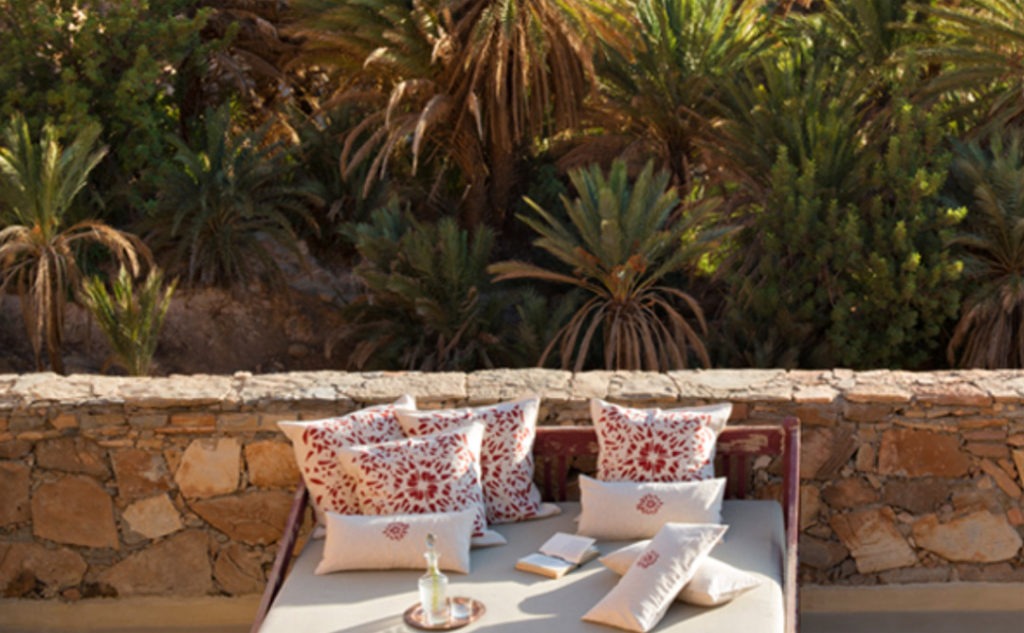 Maison Rouge
Overlooking a vermillion-stained canyon in the village of Aojou, our Saharan-style stone clad house was designed by Studio KO, the international architects behind London's Chiltern Firehouse and the new Yves Saint Laurent
Museum in Marrakech.
As enticing as your colonial inspired bedroom looks, with its leather club chairs and antique writing desk, a substantial rooftop deck awaits as does its unfettered perspective over palm treetops and jagged peaks. Glass of rosé from Volubilis in hand, lounge on the outdoor daybed as the sky fades from vibrant turquoise to muted amethyst. Dinner is served outdoors, accompanied if you wish by tunes
on the vintage gramophone.
The Dune´s Camp
Sand dunes ripple in every direction as far as the eye can see. Welcome to Iriki, the ancient salt lake we transform into your seemingly endless sandbox, if only fleetingly. Kick off your shoes and tap that inner child, by climbing up and racing down this magnificent sandscape.
Watch the desert light fade from atop a dune, aperitif in hand. Whenever you wish, meander back to camp along the path of lanterns. They lead to dinner by the campfire.
Dream under a sky awash in stars and rise with the first hints of the brilliant North African sun. Your breakfast table is poised to admire nature's awe-inspiring morning ritual. HAPPY KEY TO THE WORLD
passport to happiness

Since 2007, we have set sail for one of the most exciting social adventure: Atelier Voyage. Our goal has always been to create inspiring moments for your perfect journey, encompassing the best accommodations but also all your gastronomic and cultural needs, wherever your heart may take you.

Indeed, our deep love & knowledge of the world's destinations can direct you to the right destinations while meeting your most demanding expectations. This is reaffirmed with the recognition of Preferred Partners
& unique travel professionals around the globe.

With a dedicated team, we expand and continue to express our passion for the essence of travel, for Art History & Humanity as a whole.

We hope to pass this passion on to you through our tailor-made itineraries designed for your eyes only… We invite you to experience Atelier Voyage, your passport to happiness.

Gabriel & Gerhard

Atelier Voyage Founders